TRPX is proud to be considered one of Japan's top high end shaft makers. Our focus is creating high performance shafts which maximize the performance of all levels of golfers. A golf head is only as good as the shaft that is attached to it as that shaft creates an extension of the players body and is what translates their swing into energy and direction. Every player is different, in ability, swing speeds, and swing styles, so we create different models with varying weights, profiles and strengths to match all sorts of golfers.
The quality and performance of a shaft are based on 3 main points.
Design
Materials
Manufacturing.

All of our TRPX shaft designs are careful thought out in house through a collaboration between our manufacturing team, sales and marketing team, and extensive interaction and feedback between TRPX and test groups consisting of varying levels of golfers. From pros, to recreational golfers, from seniors, to ladies, we collect data along with real life testing as part of our research and development for designs. The designs are then created by our Shaft Meisters who not only have the golf technical know how but also the manufacturing expertise which enables them to leverage all of our data, materials and manufacturing processes as inputs into the shaft design.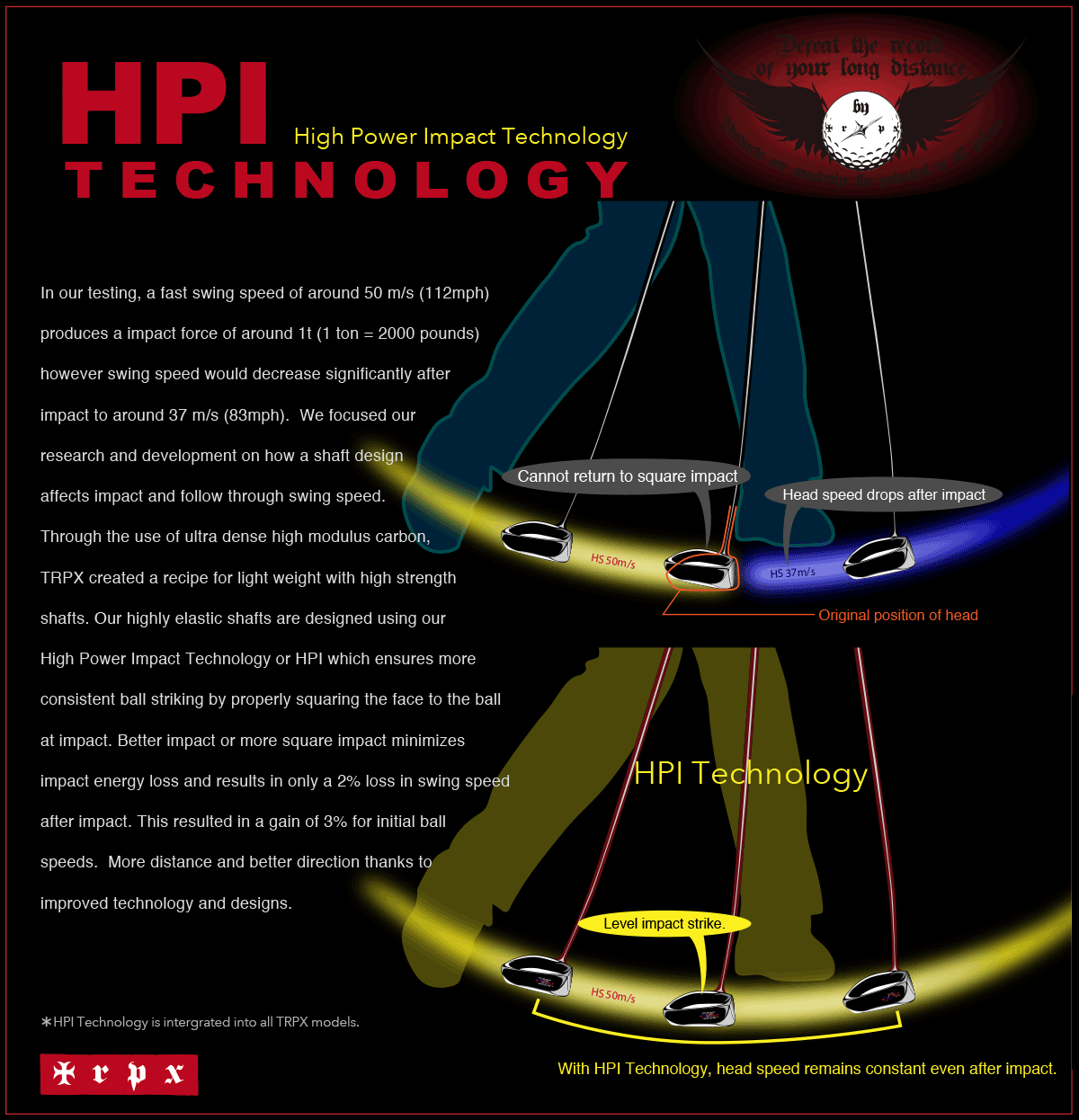 TRPX prides itself in being able to use the best quality high modulus carbon sheets produced in Japan. All of our shaft models take advantage of the strengths of high modulus carbon. High modulus carbon is measured in tensile strength. The higher the number the more dense and rigid the material becomes.
There are several advantages of using higher cost high modulus carbon in golf shafts:
Resistance to deformation. Because of its tensile strength and denser carbon structure, a golf shaft made from high modulus carbon resists rounding and is much quicker and more consistent at returning to its original shape.  This increases the predictability of the shaft release and impact resulting in more square impact on the sweet spot. Better impact equals straighter ball flight, more optimal spin and more distance overall.

Lighter weights can be achieved.

Due to the additional strength provided by high modulus carbon, the walls a shaft can be made thinner, reducing weight and creating stronger light weight shafts. Light weight shafts for many golfers, are easier to swing, easier to load and release. On the other hand, heavier model high modulus shafts in turn become stronger because more of the thin layers can be packed together to bring up weight.

Increased feel.

The resistance to deformation in point one also allows us to play with higher torque numbers in shafts thanks to to the shafts ability to regain its original shape quickly. The added torque increases the feel and sensation of power in the shaft yet control is not sacrificed thanks to the use of high modulus carbon.

TRPX shafts are 100% produced in house from start to finish. This allows us to oversee every aspect of the shaft's manufacturing to ensure optimal quality and finish. Our shafts are NOT mass produced in any way. Every shaft goes through the hands of our few Shaft Meisters minimizing the number of "touches" to only experts. Because of our limited staff, the actual number of shafts produced are not high but of the highest quality. TRPX is all about quality not quantity. Please check out a few of the aspects of our manufacturing below and visit our About page to learn more about our staff.